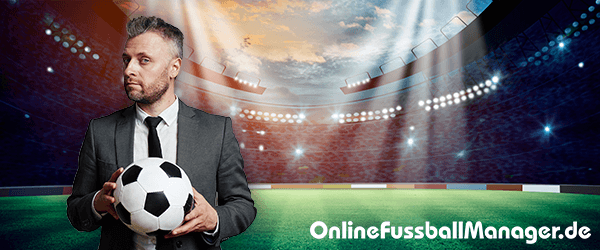 OnlineFootballManager – Start your own soccer manager career!
Be a soccer manager! Right here, right now! Take the chance to be the soccer manager you always wanted to be. Start your career as a soccer manager and get your own team. Name your team as you wish, buy the best players for your squad on the transfer market, support the youth development, build a big stadium and always have an eye on the finances. The OnlineFootballManager (OFM) is a soccer manager game that offers you up to four games per day. So challenge other soccer manager or play matches against your friends or co-workers. Be the soccer manager champion and lead your team to the top of the league. Play in your own league, OFM or World Cups, Friendlies and FunCups. The OFM is a soccer manager game with the world of football just for you – your team, your club, your strategy! This Soccer manager game is totally stress-free, because you can choose the amount of time you want to spend with this soccer manager game.
Choose between 16 countries, in which you want to start your life as a soccer manager. Name your team and take a look through the game with the soccer manager tutorial. If you need more help to manage your team, you can hire staff. With the soccer manager staff you will not forget to extend player contracts. In addition to several other features, the ingame statistics allow you to keep track of the current season and your club.
This soccer manager game has its own game principle. Independent from the Premier League or the Football Association you can have up to four matches per day. A season of this soccer manager game takes 35 days. Due to being independent you can create your own unique squad. Choose your own tactic. Do you want to play like a Diva or do you want to be a crowbar. Moreover you can choose your line-up system or your tactics. Analyze your team strength; is it enough to beat the next opponent? Think about your training, who do you want to train and what is the best effect for your team? Of course your assistant trainer will always be there to give you advice.
If you want to talk to other soccer manager, you can always use the board. Find useful hints and advice or ask other soccer manager for help. Some soccer managers are interested in real life soccer manager reunions. So meet other soccer manager close to your hometown and talk with them about your strategies and ideas. Or you can always use the league chat within the soccer manager game.
So in a short version, the OFM offers:
• Daily matches, daily fun
• Easy handling and great depth
• Very great long-term motivation
• Many different success strategies
• Stress-free, success does not depend on time spent playing
• Fairplay
• Large community with a "sportsmanlike attitude"
And don't forget; in OFM, each new das is important, because every day is a match day!
Register now and get your ⚽ welcome pack ⚽!
+200,000 £ seed money
+200 stadium seats
Manager-News

New OFM landingpage!
01.03.2021
| New OFM landingpage!

Happy New Year 2021!
05.01.2021
| Happy New Year 2021!

Season change now at midnight
15.01.2020
| Season change now at midnight

Innovations in youth development
15.10.2019
| Innovations in youth development

Transfer market Update
29.08.2019
| Transfer market Update

Upcoming changes on the transfer market
24.07.2019
| Upcoming changes on the transfer market
More news